Today was one of those moments when we stumbled upon something truly extraordinary. We had the pleasure of meeting Michael Sloan, the owner of John Michael Kitchens, a remarkable company located in South Carolina. Their custom luxury kitchens are absolutely captivating!
John Michael Kitchens recently celebrated its eighth birthday, and they are beaming with excitement. Their journey began by crafting top-notch outdoor products made from heavy gauge stainless steel. Michael's background in homebuilding made him realize the need for high-quality outdoor luxury kitchens that blend seamlessly with custom homes.
Their latest masterpiece, the full outdoor kitchen, is an absolute showstopper. Specifically made from 18 gauge stainless steel, all powder coated, this beauty boasts a full-bleed powder coat both inside and out. Just take a look at the stunning Alta drawer face, a refined version of the Shaker style, with its sleek inch-and-a-quarter profile. The color combination of champagne and carbon is simply breathtaking, and the illuminated lights add an extra touch of elegance. It's true craftsmanship at its finest!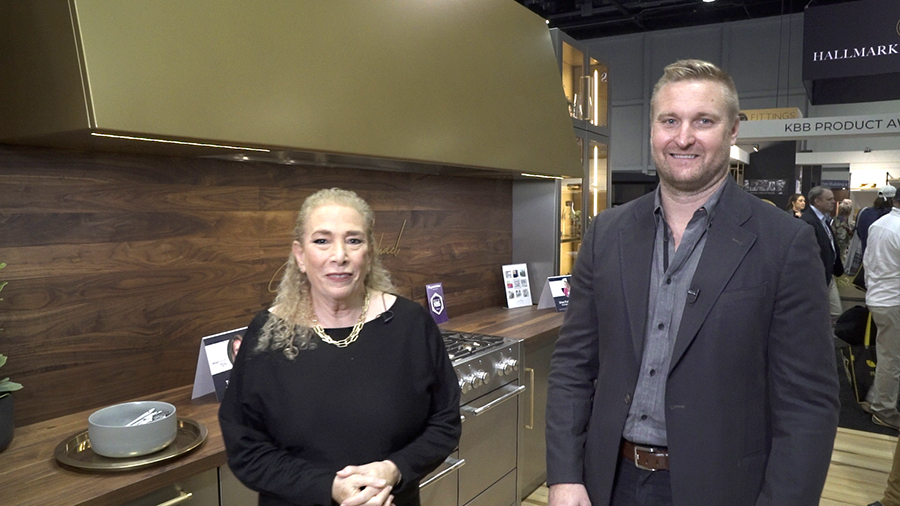 Creating an Outdoor or Indoor Dream Kitchen is Easy with Custom Stainless Steel Cabinets and Range Hoods
But wait, there's more! John Michael Kitchens has expanded its horizons and introduced a new range of indoor luxury kitchens. During the trade show, we stumbled upon these indoor marvels and were instantly captivated. They offer a variety of hood sizes, ranging from 30 inches to a whopping 12 feet (144 inches). The hoods are equipped with speakers, lights, and an internal blower function. Plus, there are four distinct styles to choose from, all available in any powder coat color you desire. Customization options are also available!
Now, what sets their indoor kitchens apart? Well, apart from being absolutely durable and constructed with top-quality materials, they're not weatherproof like the outdoor counterparts. But fear not! These indoor kitchens are designed to last just as long as their outdoor siblings. The stainless steel pure gold powder coat internals are a sight to behold, and the clear powder coat finish on the doors makes them maintenance-free. Say goodbye to pesky fingerprints!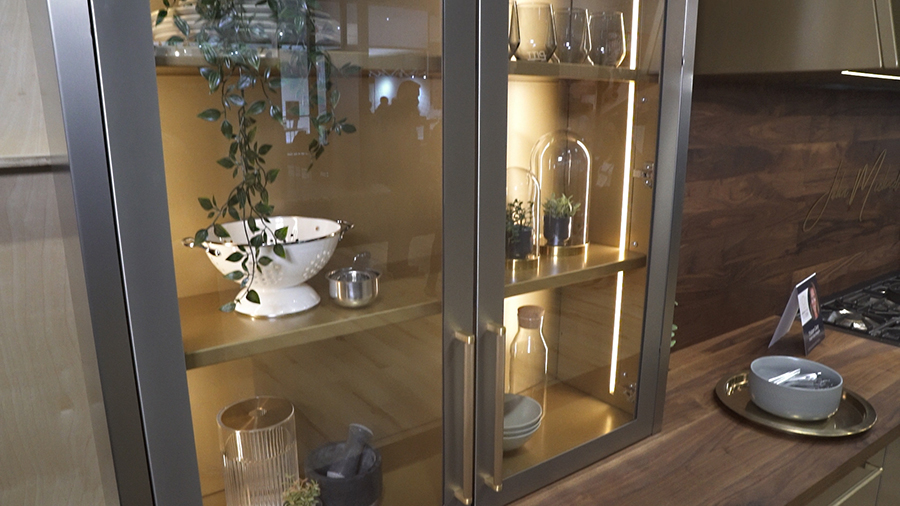 One highlight that caught our eye is the glass-front option for the upper cabinets. Ranging from 12×12 to 48×48, these cabinets exude elegance. The internal side pipe lights create a warm and inviting ambiance, perfect for any indoor kitchen. The attention to detail is simply breathtaking!
What truly impressed us is that John Michael Kitchens products strike the perfect balance between European flair and customizable options, allowing you to create a truly unique and stunning space.
We're thrilled to have stumbled upon John Michael Kitchens and can't wait to see what they have in store as they continue to grow. Trust us, you don't want to miss out on their luxury indoor and outdoor kitchens!
Subscribe to TheHome.com to be at the forefront of the latest trends related to home design. We're your go-to source for all your home-related needs, from lifestyle and interior design tips to breaking news. Sign up for our newsletter today at TheHome.com and follow us on Instagram @thehomedotcom.