Many of us can identify with the saying, "A house is not a home without a dog [or cat]." But having a pet can also take a toll not only on your wallet, but on your prized possessions. Pet proofing your home is now a priority. Between accumulating pet hair, those unfortunate potty accidents, scratched floors and drool on the couch cushions, you've concluded that the high-end couch is now a doggy bed and the coffee table legs have become the cat's scratching post.
The good news is that if you've just brought home a new pet or if you've had your furry friends for years, there's hope for your fine furnishings and home décor. Your home doesn't have to look like a pet store, full of wire crates, chewed up toys and with every square inch covered in pet hair.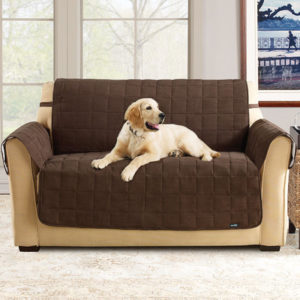 Via Wayfair
Keep The Fur and Stains at Bay with Protective Furniture Covers: Although you probably try to keep the pets off the couch, resisting the urge to cuddle is sometimes impossible. Instead of having to vacuum the couch after the cuddle sesh is over, simply put a protective cover over your furniture that you can pull off and throw in the washing machine. This stops any other damage to your furniture, like muddy paws or over-excited bladder control issues (after all, they're just SO happy to see you!) These days, furniture covers aren't the ugly, dowdy covers they used to be, so there are plenty of patterns and colors to choose from. If you're feeling less than thrilled about having a cover on your furniture, try using form fitting slipcovers. They still come off for cleaning and are more sleek and sophisticated than their bulky counterparts.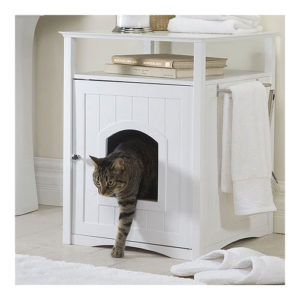 Via Wayfair
Keep a Stylish Vibe with Furniture-Style Pet Crates: Wire crates and litter boxes are not only an eye-sore, they're clunky too! Thank goodness there are alternatives to having the luxury of giving your pet their own personal space and keeping your home's stylish vibe. From kitty litter boxes to crate enclosures that can hold the biggest breeds, you no longer have to compromise functionality and your interior design. Crate covers and litter box houses now blend seamlessly with home décor, and you can even turn them into functional tables. These enclosures also cut down on smells, such as au de litterbox.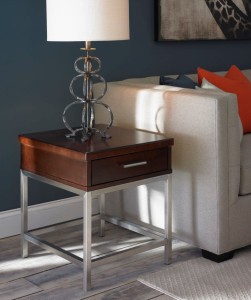 Soho End Table by Somerton Dwelling
When Buying New Furniture, Consider Metal Legs: It's no secret that puppies love to chew and cats enjoy using furniture legs as scratching posts.  If you're in the market for new furniture and you know you have or are going to have a pet in your home, consider furniture with metal legs. It's harder to scratch and not as appetizing to chew on, which will deter any nibblers from using your furniture as a snack.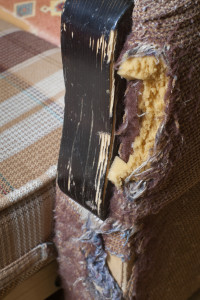 Via iStock Photo
Invest in Anti-Chewing Spray: Just about every pet store, grocery store and big box retailer carries spray that will deter pets from chewing on your investments! The non-harmful, bitter spray, which will not stain your fabrics, can be used on a wide array of surfaces, like furniture, rugs, curtains and more.  Better to have a bitter taste in your pup's mouth than being left with a bitter taste in yours because of an escalating furniture repair bill.
With these simple tips your pets and your home furnishings can all co-exist peacefully with one another without someone being put in the doghouse.