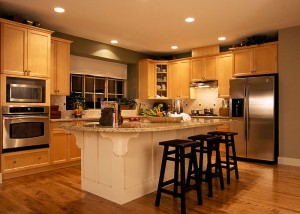 Lighting is an important element in home design. Not only can different styles of light fixtures change the aesthetics of a room, the amount of light in a room can completely change its mood. Bright, overhead light creates a business-like mood, while diffused light in a room's corners creates a softer mood. However, lighting is about much more than aesthetics and creating mood. It also contributes to how well a room fulfills its role in your house.
TV Room
For optimal TV viewing, for both the viewer's experience and the health of his or her eyes, the television should never be the only light source in the room. Avoid overhead lights or lamps at the same level as the television because they can detract from the viewing experience. Instead, to reduce eye strain, tuck small lights in alcoves or use wall sconces placed near the television to send light up a wall.
Dining
In the dining room, it is best to create a relaxing mood. An overhead light will allow those gathered around the table to see each other while they converse, while it illuminates their food. Install a dimmer switch on the light fixture so that the amount of light shed over the table can be adjusted. After the dinner dishes are cleared and coffee is served, create a cozy atmosphere by dimming the overhead light or turning it off altogether in favor of corner lamps that give off a soothing glow.
Kitchen
The kitchen usually acts as a workplace in a home. Use spotlights underneath cabinets to light work areas or install recessed lights in the ceiling to create the same effect. If the kitchen is used not only to prepare meals, but to eat them, install dimmer switches to create a different mood at mealtime.
Office/Study
Like the kitchen, the office is another home workplace, and its lighting should be flexible. A bright desk light that illuminates the work surface is essential, but lamps that give off a softer glow should also be in the room to make the office appropriate for more relaxing tasks.
Bedroom
The bedroom is another room that must serve many purposes in the home. Soft lighting that promotes relaxation is important, as are reading lamps that can be individually turned on and off at bedside. However, before the early morning commute, bright overhead lights or track lighting should be available for getting dressed in the morning.
Hall Wall/Entrance to House
Careful attention must be paid to the hall that welcomes people into the home. Warm, welcoming, and soft light is perfect for the home's entrance, and pendants or chandeliers that hang are appropriate, as are wall sconces or lanterns. If these lights are combined with reflective metals, like mirrors, the home's entrance appears large, welcoming, and bright.
When choosing appropriate light for the home, aesthetics, mood, and function must be considered. Each room should have beautiful lighting that can create the different moods necessary and allow those in the home to use each room as is appropriate.
Simon Calvin is a specialist lighting display designer producing large scale outdoor lighting decorations for parties and the holiday period. He also designs a number of the products for Ukchristmasworld.com.