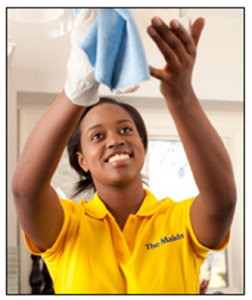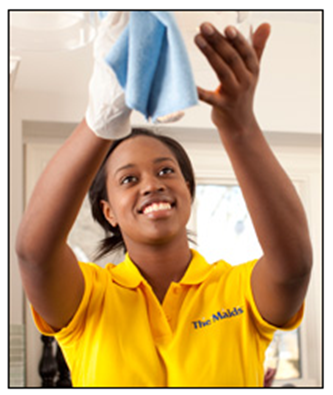 Cleaning can be a daunting task, especially in those terrifying places you continually avoid. Once you gather up the nerve to attack the places giving you the creeps, you'll see how easy it can be to tackle the most sinister cleaning tasks using these tips from the cleaning experts at THE MAIDS Home Services.
Those spooky cobwebs may go unnoticed for a while, but when you do spot them, do not be spooked – they are easy to clean. For hard-to-reach corners, take a broom and secure a micro fiber cloth on the end using a rubber band. You will be able to reach the difficult spots and eliminate the webs quickly.
Chilling basements are easily refreshed with ventilation and dehumidification. Open windows or use a large fan to circulate fresh air. If needed, use a dehumidifier to eliminate dampness.
Cleaned out your refrigerator lately? Last week's leftovers probably look like a ghoulish concoction. Go through the fridge and throw out any old, frightening food. Use a sponge and a solution of equal parts white distilled vinegar and water to clean up spills. Pull out and wash all shelving and drawers using a mild dish detergent in warm water. Wipe dry.
Face your fears and give your attic a makeover.  Remove clutter by giving away or getting rid of any unwanted items, then organize what is left in boxes and label accordingly. Doing so will not only organize a nagging area, but may even frighten away any resident spiders!
If your garage gives you nightmares, start by sweeping and tackling dust and cobwebs with a wet/dry vacuum. Remove items and wipe shelving with a mixture of hot water and mild disinfectant. Be sure to discard items such as old paint or motor oil properly.
Cleaning windows can be a terrifying chore. To achieve professional results and scare away dirt and grime, use a solution of one drop of degreasing liquid dish soap per two gallons of warm water and a quality squeegee.
Now that your home is spook-free, you can turn your attention to the ghosts and goblins invading your neighborhood!
THE MAIDS Home Services, founded in 1979, is the most trusted name in home services due to their consistent quality service and premium products which meet or exceed customers' expectations. THE MAIDS promises to deliver a cleaner, healthier, happier and more comfortable home…guaranteed because "Nobody Outcleans The Maids." Rated as the fastest-growing residential cleaning franchise in Entrepreneur magazine for the past four years, THE MAIDS is one of the oldest and largest residential cleaning franchisers in the United States and Canada, serving over 40 states and four provinces in North America.  For more information, visit THE MAIDS Home Services' web site at www.maids.com, "Nobody Outcleans The Maids."