By Linda Longo
If enduring those months of quarantine left you wishing you could make some quick, affordable improvements to boost the look and feel of your home's interior, here's some good news.
You may have heard that mirrors can make small spaces look larger, but there's a secret only savvy interior designers know: accent lighting can visually expand a space, adding an attractive layer of dimension that's subtle yet highly effective. Rooms suddenly look better ― and your friends might not be able to figure out exactly why the space appears noticeably fresher when you haven't bought new furniture, upgraded appliances, or rearranged the room.
Most homeowners think of lighting as purely functional, but it's actually a very versatile and affordable tool that can easily change a room's ambiance at the flick of a switch, turn of a dial, or swipe on a smartphone app.
Thanks to the innovative developments in lighting technology, there are now more options available than ever before ― especially when it comes to LED. If you think switching to LED means having lighting the color of super-bright car headlights, well, you just haven't seen the high-quality advancements that are now readily available.
Over the past several years, significant improvements have been made in color quality (now closely matching incandescent's warm glow), dimmability, energy savings, and even integration into popular smart home systems. LEDs' small size also allows for virtually invisible installation, which is especially handy for narrow spaces along cabinet or shelf ledges.
Best of all, most of these accent lighting installations are not complicated and can be rather easily accomplished by a handy homeowner on the weekend or by a contractor/electrician without a lot of expense.
There is one new technique becoming increasingly popular for accenting walls and ceilings; however, it needs the expertise of a professional. Commonly referred to as "channel lighting," it entails recessing a metal channel containing LED light into the drywall or wood and then plastering around the channel to make the light completely flush with the wall or ceiling surface.
Kick the Kitchen Up a Notch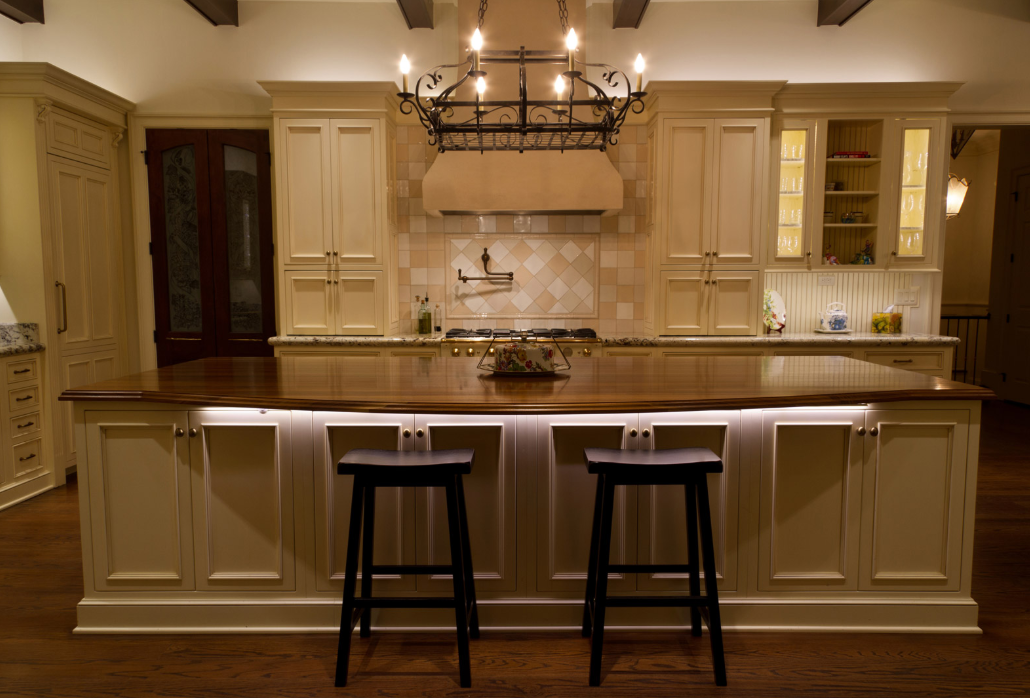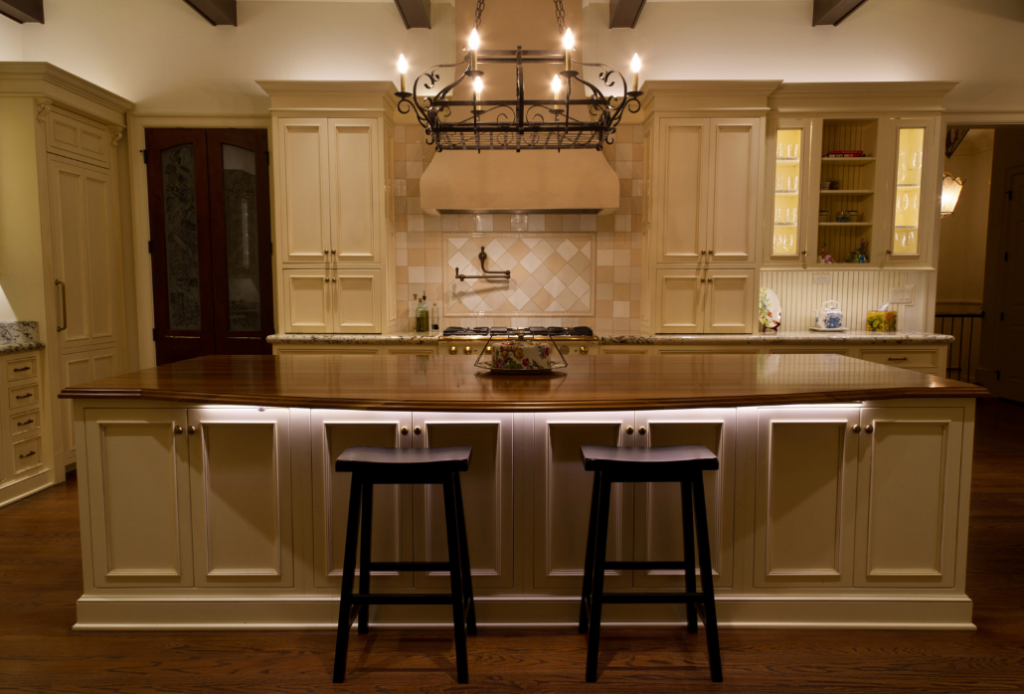 Soft accent lighting is instantly achievable in the kitchen, from the practicality of having a light come on when you open a drawer or enter the pantry to illuminating the countertop during food prep or showcasing a collection of stemware through glass-fronted cabinets. Two often-overlooked opportunities for heightening a kitchen's ambiance is by installing a small strip of continuous light along the top of the cabinets as well as below the base cabinets to evoke a "floating" mystique. These effects can be created by using what is called "tape" or "strip" light – so named for the rolls of LED lights with adhesive backing that can be cut with scissors to fit almost any configuration.
Bring Drama to Dining
With many dining areas adjacent to the utilitarian kitchen, the addition of accent lighting will softly supplement the chandelier above the table, balancing the aesthetic while also serving to visually expand the space.
Depending on the layout and available wall space, one beautiful method of accent lighting is to install one or two sconces (if you don't want the bother of installing a junction box in the wall, try a "pin-up" version that uses a cord that hangs down within reach of an electrical outlet). Other methods could include one or a pair of tall and slender buffet lamps (if there is a serving table with usable surface area nearby) or selecting one dining room wall to highlight with a wash of light from either a recessed or track fixture above. Light reflected against a wall will create the illusion of a larger area.
Give a Boost to the Bath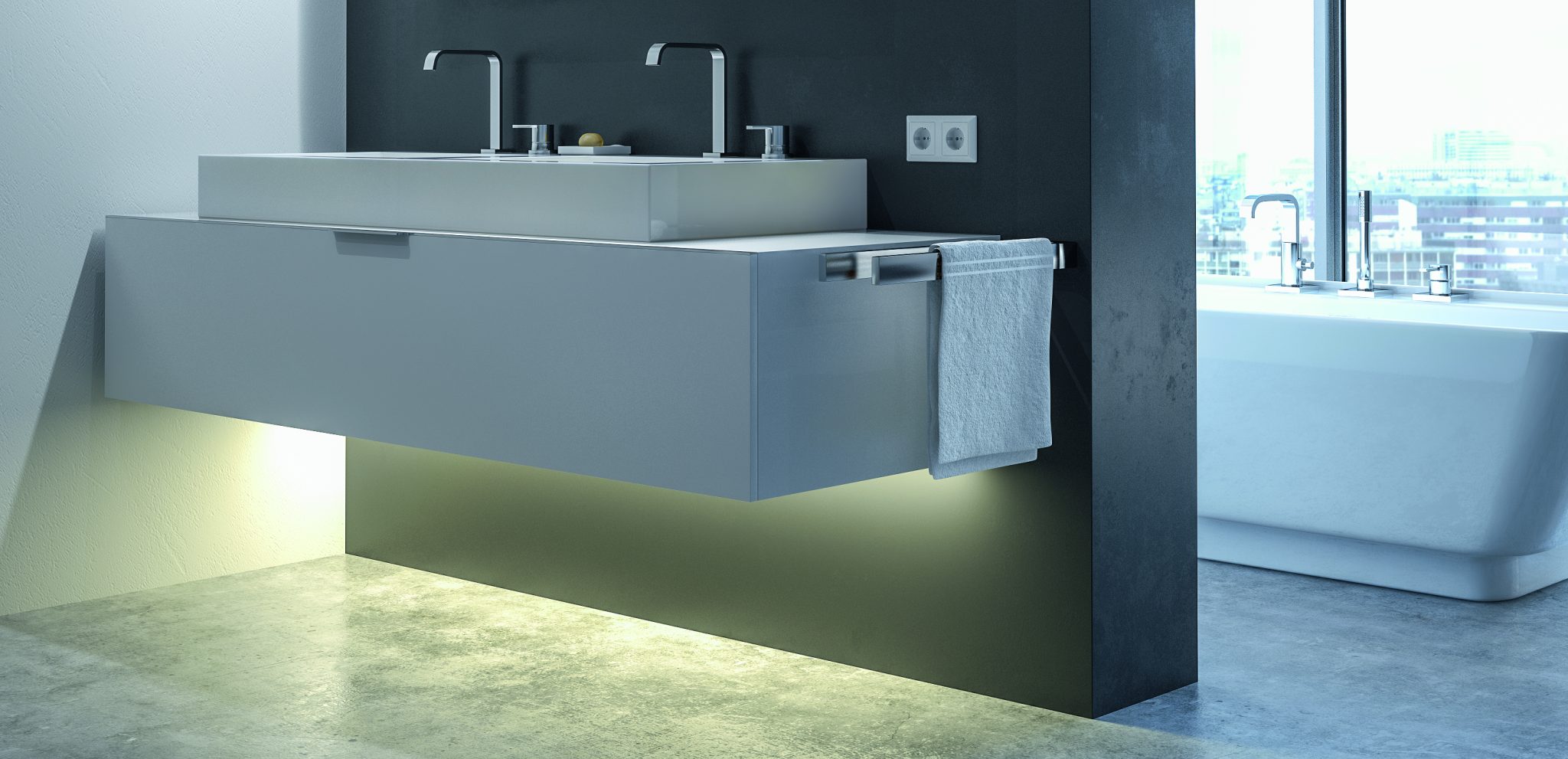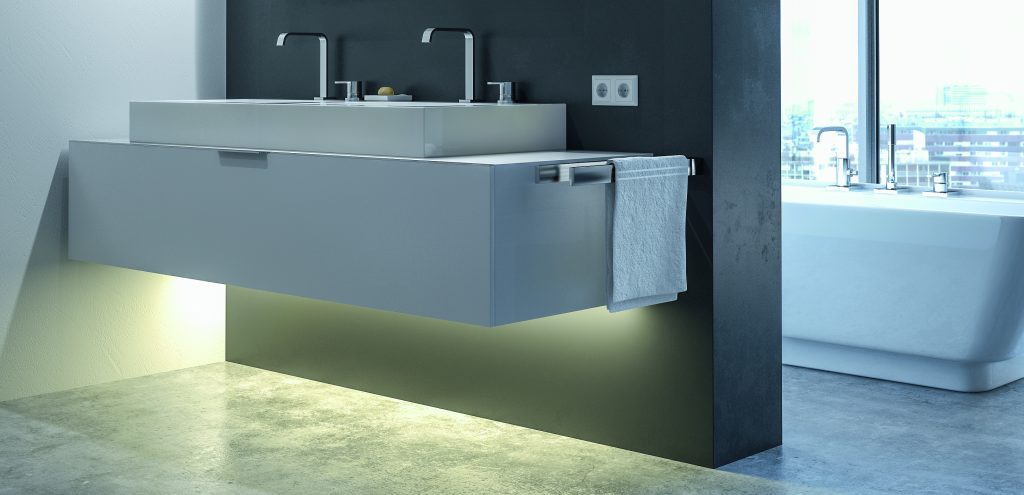 Accent lighting installed underneath the bottom edge of the vanity will create a "floating" ethereal effect that also doubles as a nightlight. To create this look, tape/strip light is the easiest solution. Another benefit of using LED is its maintenance-free and long life (it will typically last 50,000 hours, which translates to more than six years for this type of application). Some plumbing manufacturers (such as Kohler and Toto, to name two) have recently unveiled styles that include a strip of LED underneath the bathtub to replicate that "floating" effect.
The same technique can also be employed surrounding the bathroom mirror (as long as its edges are not flush against the wall). Not only does this provide a soft non-glaring illumination, but having light surrounding the face – instead of coming solely from above – is the best situation for putting on makeup or performing grooming tasks.
Create a Bedtime Mood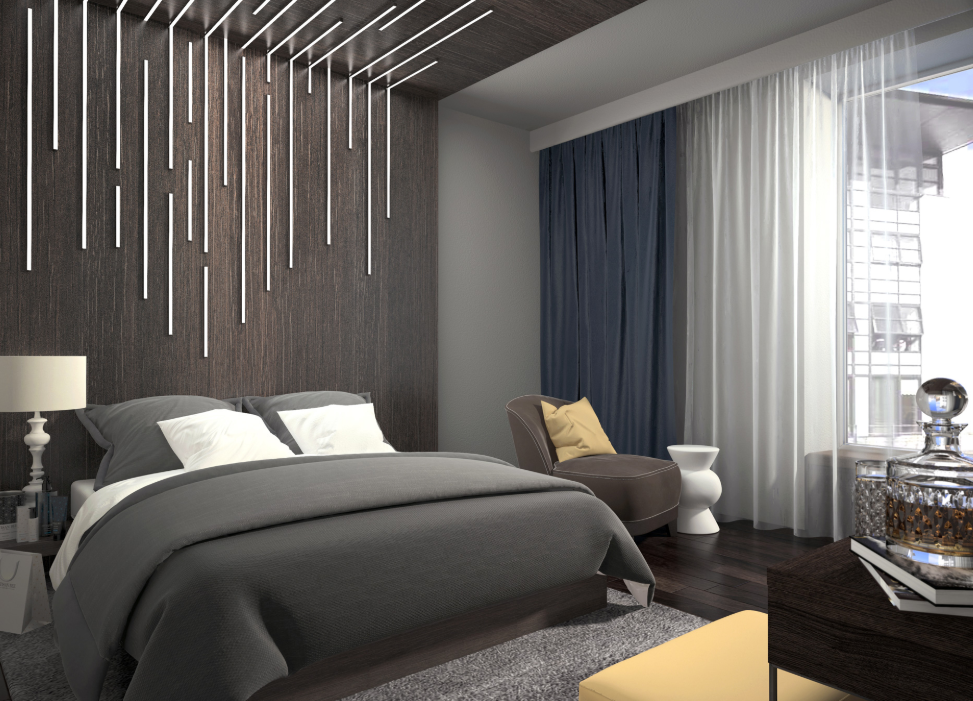 Accent lighting when relaxing at night will help you unwind from the day's stresses by providing a lower light level than you would experience with the typical overhead light. An easy and affordable solution is to replace an ordinary incandescent screw-in light bulb with a color-changing LED version that can be conveniently dimmed or change color by using an app. There are many choices available on the market from various manufacturers that can accomplish this.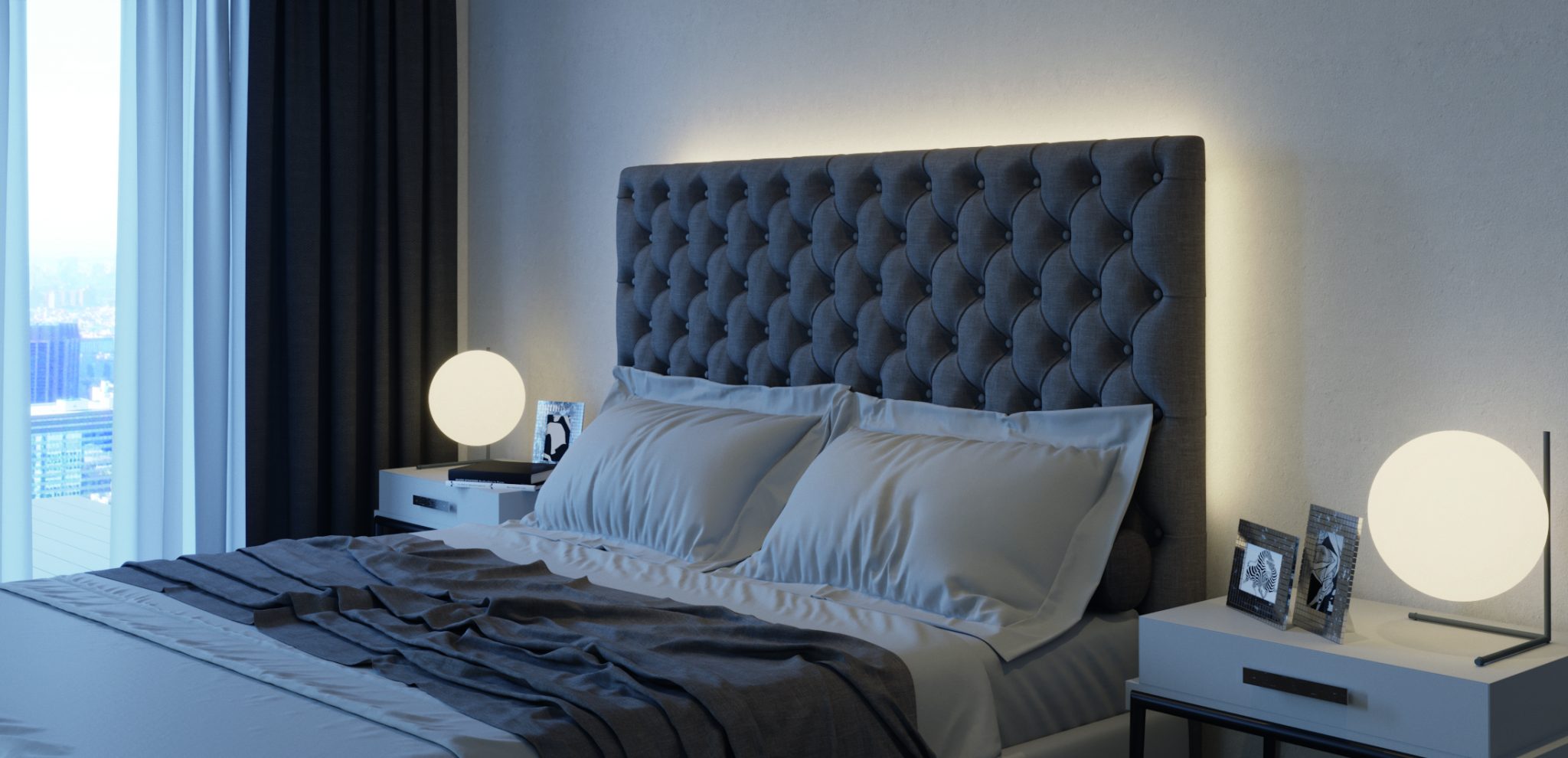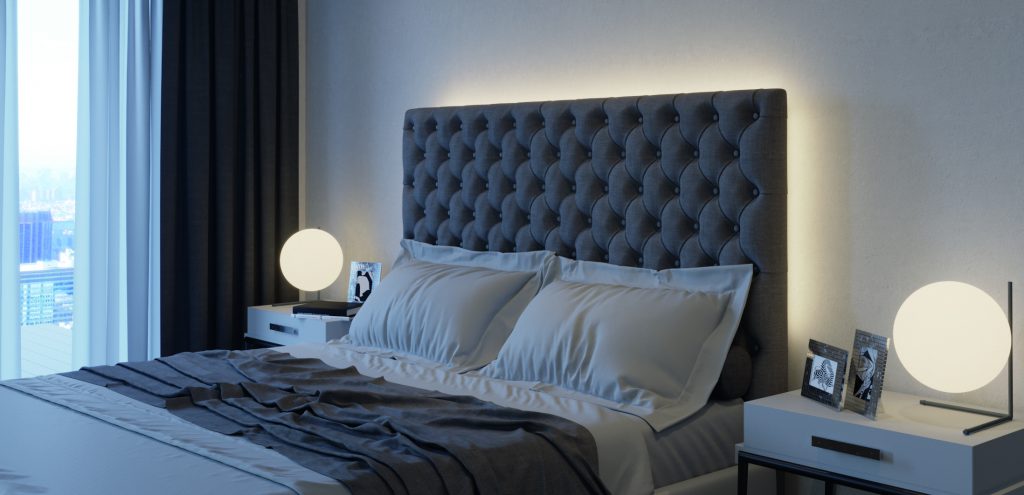 Other techniques for introducing accent lighting into the bedroom include smaller table or wall lamps outfitted with lower wattage bulbs or that can be controlled by a dimmer to reduce the amount of illumination. The goal is to have just enough light to see, but without any glare or brightness that would cause alertness.
Tape/strip lighting placed behind a headboard or underneath a chest of drawers or furniture will also achieve the same goal as well as serve as a nightlight.
In some master suites, a tray or cove ceiling is a common architectural element that adds visual interest to the space. Strip/tape light is especially effective in this type of application to provide soft, indirect accent lighting with no glare.