Recently, we were given the opportunity to try out a fun product for a DIY project.  WallArt© Wall Décor has created eco-friendly, 3D wall panels that are made out of fibrous residue of sugarcane, called bagasse.  It's 100% recycled, compostable and is therefore, 100% biodegradable.  The panels create a unique design effect on walls in 3D patterns.  The folks at WallArt© gave us the opportunity to try out their product, and we've got the scoop on the installation process!
We chose a guest half-bath to renovate for this project.  This bathroom had plain white walls with a Tuscan-style border in neutral taupe tones.  The bathroom was not very large, but had a surprisingly tall ceiling.  In order to draw the eye upward, we decided to keep the existing border and add the 3D panels above the border, leaving the bottom as-is.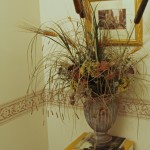 First, we made sure that our walls were free of debris.  We removed light and electrical outlet covers, and made sure any holes or nicks in the wall were patched.  When dealing with electricity, please make sure you have a professional handle your sockets and light switches.  For our project, we had an electrician do this.  Then, our contractor started taking measurements for panels that needed to be cut.  We placed a thin bead of basic, all-purpose adhesive around the edges and down the center of each panel, and then pressed the panel firmly to the wall, wiping any excess adhesive that may have come out the sides with a damp cloth.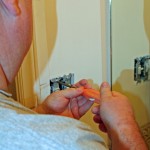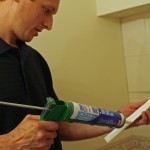 Once installed, the panels had small gaps between them.  Using spackle, we filled the gaps, taking care to also fill corners and the space between the panels and the border.  We wanted to ensure that the spackle was fully dry before moving on, so we purchased some fun spackle that spread on pink and dried white, indicating we could then sand and paint.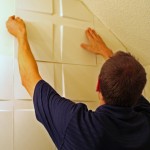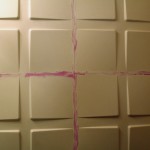 Once the spackle was completely dry, we sanded to a smooth surface.  This is a messy job, so be sure you cover any furniture, and put down a drop cloth as well!  The sanded surface made the gaps almost undetectable.  Next, we applied a coat of primer to the panels in order to give us a good, even base for painting.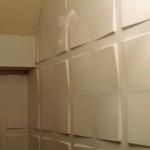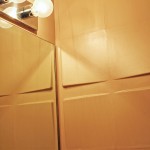 Lastly, we applied two coats of a classic taupe paint to the panels, which really brought them to life.  We used a dark chocolate paint color below the border to pull the look together.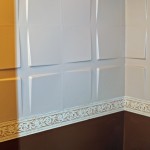 This project took about a day and a half.  Cutting the panels was not difficult, and installation was a breeze, though some panels had warped slightly due to their composition.  This made spackling a bit more challenging due to larger gaps between panels.  This product probably wouldn't do well in moist or damp rooms, such as full bathrooms, basements or backsplashes in kitchens.  This is because the panels are made of pulp, and are therefore easily damaged and warped with too much moisture.  The panels also dent easily due to their 3 dimensional effect, so they should be installed on walls where there is no furniture pressing against them.  Hanging art or towel racks will also be more challenging on these panels.
Overall, this was an easy process as a means to completely transform the look of a room.  We highly recommend this product for a contemporary space as an accent wall.  For more information about the designs and patterns available by WallArt©, click here.