Whether or not you favor sunny, preppy styles in fashion or the home, you have to admit that Lilly Pulitzer was a true original.  The design world will miss her dearly, and as a way to pay tribute to the inspiration she's provided us over the years, we've created a Pinterest board showing off some of our favorite looks and her signature style.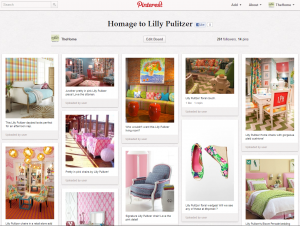 Also be sure to check out this video of our walk through the Lilly Pulitzer showroom at the High Point Market.  This was an interview about the original collection!  The colors were amazing, and the designs fabulous.   It definitely has a Palm Beach, resort luxury style that we love.
Do you have any favorite Lilly Pulitzer pieces or apparel?  Tell us how Lilly has inspired your design style!