I love finding beautiful sea shells when my family and I travel to the beach.  The natural beauty from the sea can create some stunning interior design pieces for the home!  Here are a couple of eco-friendly companies that might inspire you to do more with your sandy gems than simply putting them in a jar!
Eco Sea Tile provides handmade home tiles and other accessories made from waste shells recovered from seafood processing.  These include lobster, mussel, oyster, scallop, clam, mother-of-pearl and abalone shells.  Our favorite product is their beautiful wine stopper collection!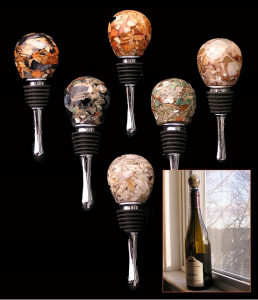 Lowcountry Originals creates lighting and home decor pieces made from driftwood, oyster shells, sea grass, natural materials and other found objects.  Hand-made in Savannah, Georgia, and originally started by finding reclaimed and recycled objects from Tybee Island, Georgia, these pieces inspire me to get creative with my own beach mementos!  My favorite finds are their spectacular marsh grass drum chandelier and swinging day bed.  What a great way to keep waste off of our beautiful coastlines!
Click here to view our video from Home Fashion Report during the 2010 High Point Furniture Market, highlighting some additional products by Lowcountry Originals.
How have you displayed your favorite beach finds?