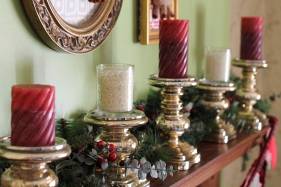 When making things merry around the home, the mantle is a great place to start—a small space with a big impact.  With just a few simple design principles you can update your mantle from every day to holiday!
First choose decorative pieces that vary in height. Tall candles mixed with smaller ones, frames of all sizes, small ornaments or keepsakes, and greenery.
Since most mantles look best with a "hero," your next step will be to look for something larger than the other objects you've selected. It can be one large item—a large wreath, mirror or piece of art— or one large grouping as seen here. For something more unexpected, we created our own hero with gold vintage frames and bold geometric fabric. We wrapped each frame's backing with our Pelham print and then added these adorable knitted reindeer to make it festive!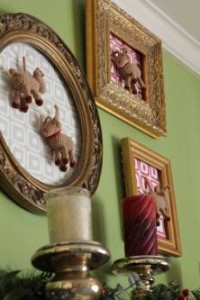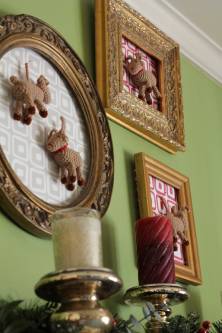 Next, place taller objects towards the outside of the mantle and vary smaller objects towards the center.  This acts as a frame for your hero piece and gives it visual balance. Using an odd number of three objects works best to achieve balance– the rule of three works when styling just about anything.
Add greenery, ribbon or some sort of decorative trimming along the mantle and between groupings for the finishing touch.
If you love these ideas, make sure you check out www.lauraashelyusa.com for more design tips and inspirations!
Author: Laura Ashley Designer