Stay-at-Home Valentine's Day Ideas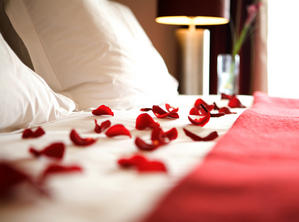 If you're one of the many busy people in the world, with schedules full of meetings, appointments, soccer games and community events, you may not have noticed…it's Valentine's Day!  For those of you looking to stay in tonight, here are a few simple and fun ways to share love that will make a lasting impression!
Get the Kids Involved – Even dinner with the kids can be romantic if you get creative.  Help set the table with your kids, giving them chocolates and paper hearts for decoration.  Have your child dress up and pretend to be a maitre d', serving sparkling grape juice and grilled cheese sandwiches to the family.  Have fun with it!  Turn off the lights and dine by candlelight, and play soft music to create that romantic atmosphere.  To round out the meal, dive into cupcakes and ice cream for dessert.  Finally, don't forget to tip your waiter!
Flowers With Style – If you're running by the florist to pick up some beautiful flowers for your significant other, don't forget to stop by your local drug store or supermarket and grab a box or two of candy sweethearts.  When you get home, take a small cylindrical vase and arrange the flowers in it.  Then, put that vase in a larger cylindrical vase.  Fill up the larger vase with the sweethearts, arranging them so that the smaller vase is surrounded by them.  Voila!  You have a creative, unique, and edible way to present your flowers!  This can also be done with small cinnamon candies called Red Hots, also popular and easy to find during Valentine's Day.  These look especially great with red rose bouquets, the quintessential flower arrangement for this holiday. (Thanks to our friend, Mary Leigh Howell, for this great idea!)
Sweet Chocolate Dreams – Once you've had dinner and put the kids to bed, turn up the romance by doing a special turndown service for your spouse.  Light some candles on the bedside table, and make sure the bed linens are crisp and turned down.  Scatter Hershey's chocolate kisses or Dove chocolate hearts and rose petals on the top of the duvet.  Write a special, handwritten note for your significant other and place it on their pillow.
You don't have to spend a fortune to show your romantic side.  In most cases, simple is the most effective.  Your thoughtfulness, coupled with a little creativity, will be a sure hit with your loved ones.  Remember, showing the people you love how much you care doesn't have to be a one-day event.  These tips are great for today, but can be used anytime!  We hope that you have a happy Valentine's Day!