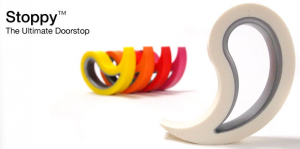 Stoppy keeps doors open with style.  It's a cute little thing, with a fun design, and comes in a variety of colors.  At first glance, you may not even know what it is, as it has a unique curvature that doesn't scream doorstop.  But it does an excellent job at propping open doors and even windows.
Stoppy is made from a rubber-like material.  It works on everything from carpet to tile, to stone, wood or linoleum, without leaving scuffs or scratches.  It works wonderfully against light breezes, holding doors firmly in place.  It works great with windows, too, just in case you have a pesky casement window that won't stay open.  Simply place Stoppy in between the sash and the window frame to prop open the window.  Because of its design, it fits gaps as small as .25" and using the curvier end, fits gaps up to 3.5."
Keeping Stoppy clean is pretty easy, too.  Clean with water and dry off, and it's like new!
We like the Stoppy doorstop because of its cool design for a very functional household item.  Their rainbow selection of bright colors is also right on trend with what's hot in home fashion this year.