POV means 'point of view,' in case you didn't know…
The idea of Pre-Market is to get a "pre"view of what's going to be seen in High Point at the upcoming Market…in this case, April 2012…. from larger manufacturers in the industry.  Most of the pieces seen here are casegoods.
It felt so good to see introductions that I could get excited about (like Durham's Perfect Balance introduction.)  I love the concept….LOVE the storage bed!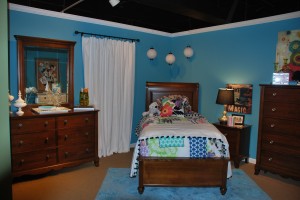 Here are some other great introductions I saw pop up while I was at Pre-Market:
HGTV Home Furnishings Collections is much anticipated…only one was given the 'ok' for pictures, but I think this brand is a homerun for the dealers who are chosen to be partners!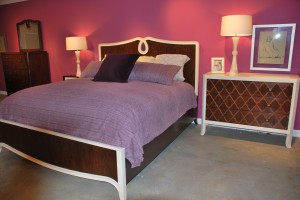 Casana stepped out of their look just a bit, and the new look made me stop in my tracks to take pictures.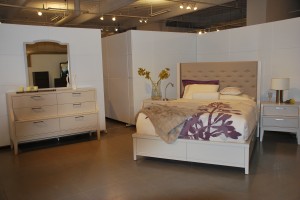 Sam Moore's chair has GREAT legs with amazing color addition!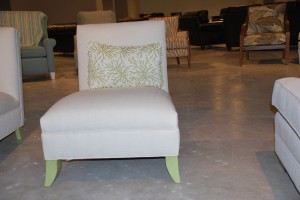 Saw LOTS of grey (ART upholstered bed and Palliser theater chairs), Old World (Hooker coffee table,) and influences from 20's to retro.  I saw smaller space pieces to exaggerated detail…Hooker Furniture went BIG!  Architectural details abounded; Stanley Furniture has the dressiest industrial bookshelf I've seen!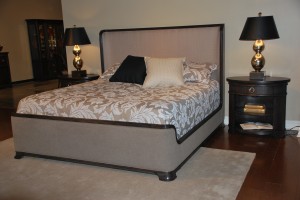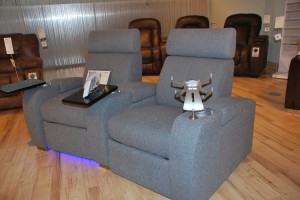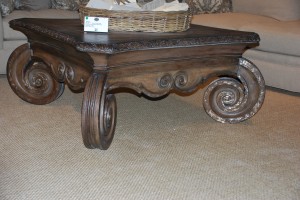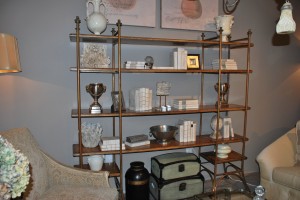 American Drew is going back to its roots with bedroom furniture being Made in America in the La-Z-Boy casegoods factory (think Kincaid), while Better Homes & Gardens at the Universal showroom had a "fresh take on cottage" (bet you didn't think there were any more derivatives of cottage!)  The poke-berry color seen almost seems black, but has just enough color in it to deserve a second look.  Other collections had similar dark finishes (Hooker occasional.)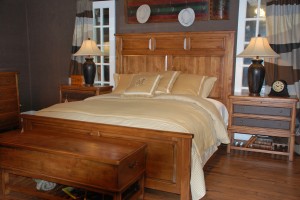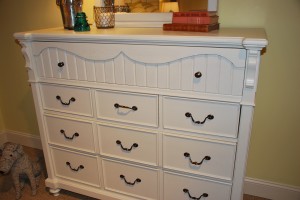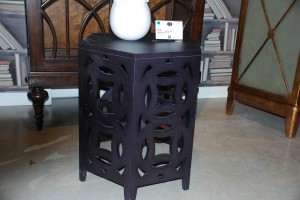 Crescent is making a return to dining, and Legacy is back in the occasional business for a whole home collection, and they've added kitchen pieces to the mix.  They had such a fun display!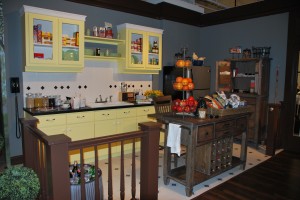 Panama Jack is introducing a linen and wood bed, which is a look we've seen before, but is receiving great comments from retailers!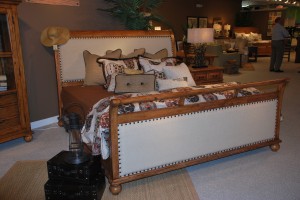 I also love the mixture of time periods and travel influences seen at Pre-Market, such as Art Deco (Bassett,) Art Nouveau, Traditional(Hekman), Asian, West Indies, and 'Modern Lodge' (Hammary — their term, not mine!)  Can you say, "Juxtaposition?!"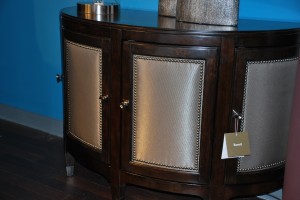 Kincaid's new collection is British Colonial with Campaign influences.
Hooker's collection is called Rhapsody – a "Casual Opulence."
Stanley's collection is called Arrondissement, a French word that refers to different neighborhoods inParis– NOT a Parisian collection, but a European lifestyle.  Look for terms in this collection like rustic charcoal, salted black, vintage neutral finish, lost wax hardware… terms that make me want to see more!  Good marketing, guys!!!!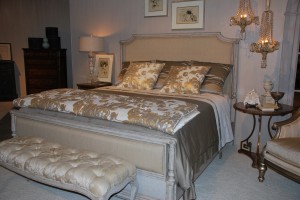 Bassett is introducing smaller/thinner pieces for small living spaces, as well as new pieces to EOS (Entertainment, Office, Storage) with hidden function.
In design, I saw lots of movement, shapes, and new finishes (Folio 21 and Casana.)  You know, it's just like in fashion….there's a look for everyone! After seeing such a large array of styles, I'm pumped for April Market!!!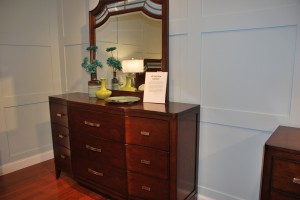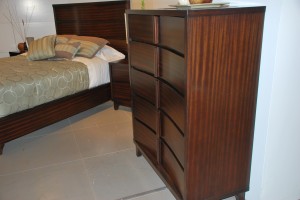 Look at www.pinterest.com/ellengefen  for more Pre-Market photos!