With Market coming up, I always enjoy hitting up "Pre-Market" for a sneak peek and to share the latest trends. Musical influences surely captured my attention and I have to say, I love it! Collections from Pulaski, Hooker Furniture, and SYMBOL Audio all exhibited this musical mantra.
Rhythm and Home is Pulaski's new collection, which was inspired by jazz guitarist Matt Marshak.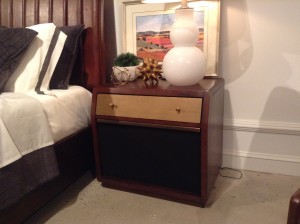 This table can serve as a bedside table or side table. Inspired by the silhouette of an amp, it actually plays music and has a hidden drawer!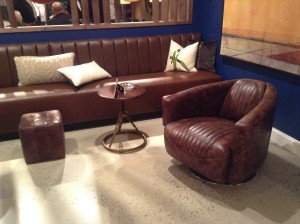 These are great for relaxing while listening to music; it just lets you relax as you "tune in" to the music and tune out the world.
Hooker Furniture's Studio 7H collection has a musical influence and mid-century modern style. Hooker Furniture and their designer, Taylor West, wanted to bring consumers the functionality and modern take to pieces we all need.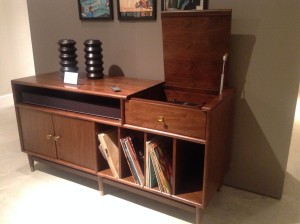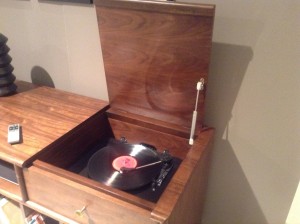 I love this mid-century console! This piece actually has a turn-table inside and a place to hold your favorite albums. I am adoring the retro feel!
SYMBOL Audio's "bespoke" pieces (which were debuted in April)  made in response to the vinyl boom as well. While working with designer Blake Tovin, SYMBOL Audio has created items that exude modern taste and still give an old school vibe.  It's all about small spaces!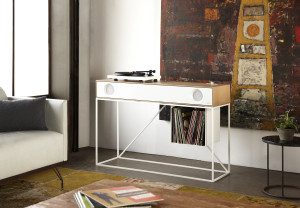 This table really caught my eye. It doubles as a record player and storage for your vinyls!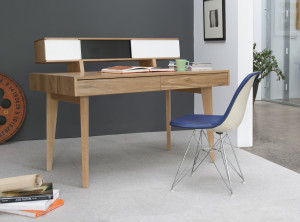 If you like functionality, this desk is for you! It is designed for sound with speakers built in and comes with a wireless remote, how cool! Best of all, it's made in America. You can find SYMBOL's collection on display in the Pinnacle showroom on the top floor of 220 Elm.