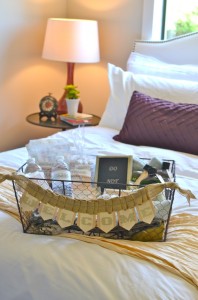 Via The Project Girl
Who doesn't appreciate a night or two in a boutique hotel?  Give your overnight guests a five star experience with these surprisingly easy (and budget-friendly!) thoughtful details – all without having to leave home.
Before you begin adding the fun stuff, make sure the basics are in place: a comfortable mattress (if yours is less than ideal, invest in a hypoallergenic mattress topper), a bedside table and lamp, wastebasket, a comfortable chair, a mirror, and room-darkening window shades.  Reserve some sheets just for guest bed use; for all-out luxe, buy the highest-quality linens you can afford.  Leave towels and wash cloths on the bed or chair so your guests don't have to wonder which ones they are supposed to use, particularly if they'll be sharing a bathroom with family members.  And don't forget that your guests will be coming with cell phones and other devices that need recharging so make sure at least one outlet is easily accessible—even better, add a power strip.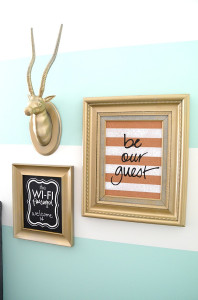 Now for the extras!
Fill a pretty basket with things that will make your guests feel at home: a couple of current magazines, bottled water, tissues, a selection of travel-sized toiletries and some energy bars.  If you are looking for alternatives to a basket consider using a decorative tray, a big glass jar or even a whimsical galvanized bucket.
No need to put in the basket, but nice to have on hand in a drawer–extra toothbrushes and toothpaste, bandaids, pain relievers, feminine products, sunscreen, and a lint brush.
An alarm clock positioned so it is easy to read (and reach!) from the bed, or better yet an alarm clock/radio.
A small laundry hamper.
Nice hangers in the closet and a hook on the back of the closet door.
A foldable luggage rack.
Extra blankets, sheets and pillows.  Put them in an obvious, easy-to-find place (like the top of the closet) so guests can pull them out if they need them in the middle of the night.
Fresh flowers!  Even a couple of blooms in a small vase will up the luxury quotient immensely.
A small coffee and/or tea maker with supplies.
A water carafe and glasses.
Scented candles and a lighter.
Post your Wi-Fi password and any other access codes your guests might need in an obvious place–have some fun and put a little welcome message with relevant codes in a decorative picture frame.
An extra set of house keys on a distinctive keychain.
A pretty dish or small tray for jewelry.
A selection of books: look for short story collections and humor anthologies that can be read in small bites, local guidebooks and a few old favorites.  Stock up on books that your guests can take with them if they're not done when the visit ends.
A small pad of paper, pen and pencil.  Other office supplies that might come in handy, especially if your guests are staying a while: sticky notes, tape, paper clips, envelopes and postage stamps.