With the summer season in full swing, people around the country are taking to the outdoors. From backyard BBQs to rooftop bars, it is important to keep that outdoor furniture looking fresh.  Here are a few tips for those looking to spruce up:
Teak
Teak is strong, lightweight, and resistant to outdoor elements, and does not need to be sealed or treated to protect the wood. When left outdoors, it will gracefully turn to silver patina to harmonize with its surroundings.
To keep teak looking chic, scrub with a soft brush and natural soap. Rinsing with fresh water regularly is also encouraged. Many stains can be removed by using a diluted bleach mixture with water, in a 4:1 mix. Scrub with a soft brush and rinse with fresh water. Do not fear a change in color of the stained area. Thanks to teak's natural oil content the wood's color will even out within a month after cleaning.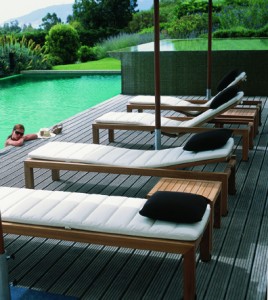 Stainless Steel
Stainless steel is durable and stylish, and will hold up to frequent cleanings.
To maintain its luster, wash regularly using fresh water at a high hose frequency. For a deeper clean, mix baking soda and dish soap or some white vinegar, towel dry and voilà!
Batyline Mesh
Batyline is an extremely flexible, high quality and durable material that is nearly impossible to tear. Mildew and UV resistant, it is a great alternative to cushions and perfect for outdoor use in wet environments like a swimming pool.
To clean, simply wash it with a mild natural soap and fresh water, and then rinse and dry with a cloth.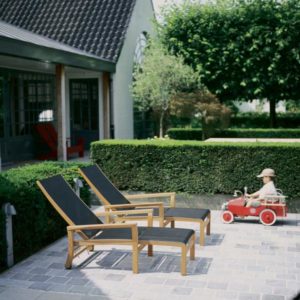 COAXXS ®
Its exceptionally strong weave and composition make this an all-weather material. It will not loose its suppleness in low temperatures and will not feel sticky on the skin in hot. It is resistant to the damaging effects of chlorine and salt water, stretching or cracking, UV rays and stains from suntan or the locations.
To freshen up the synthetic fiber, wash with natural-based soap and a sponge and rinse with fresh water.  You only need to clean once a year.  To avoid scratches, do not clean using any type of abrasive agent or scouring pad.