Happy hour can quickly turn unhappy when you find yourself looking at a three-figure bar tab. Instead of paying a premium for overpriced drinks in a noisy bar, bring it on home and create a happy hour of your own that will leave you and your guests all smiles at the end of the evening. Here are a few tips for hosting your own happy hour.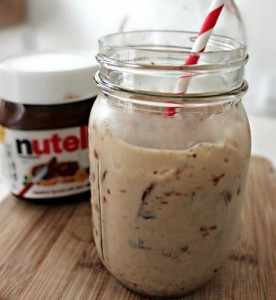 Nutella Mudslide via Delicious Drinks
Start With Atmosphere: That's most of what you were paying for at that trendy hotel bar anyway.  Splurge on some nice glasses and a good-looking serving dish if your happy hour will include finger food (it should).  On the day-of, do a quick clean-up in the morning, grab an inexpensive bunch of flowers on your way home from work, put music on low and light some candles before your guests (or your one special guest) arrive.  And remember: happy hour is the time to unwind, so take a deep breath and shake off the day before you open the door.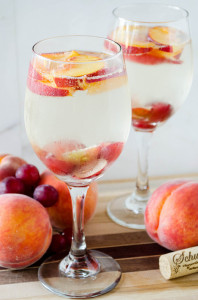 White Peach Sangria via Cooking Ala Mel
Keep it Simple: No need to invest in a fully stocked bar–pick a single theme for your pop-up bistro instead.  Are you a beer or wine lover?  Stock a variety of local craft beers and wines and some small glasses so people can taste more than one. Money saving tip: lower-alcohol wines are very hot right now and are priced in a budget-friendly $8 to $15 range.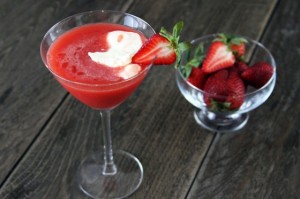 Strawberry Shortcake Martini via My Life as a Mrs
Host a Martini Tasting: How about a vodka martini party?  Instead of paying for pricey flavored vodkas, make your own ahead of time and encourage people to experiment.  Start with a good 80 proof vodka and infuse it with anything from coffee beans to citrus to sour gummy bears. To create the infusion, put vodka and flavoring in a clean, air-tight jar, shake a couple of times a day, store in a cool, dark place and strain when done–very strong flavors like jalapenos will take just a couple of hours while milder flavors like cucumber can take up to two weeks.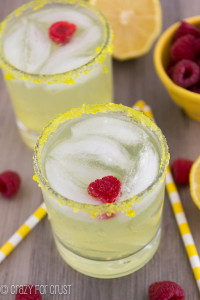 Lemon Drop Fizz via Crazy for Crust
Pick a Theme: If you want to get more elaborate, stock up on supplies for a specialty cocktail. Match the ingredients to the season or simply pick an occasion to celebrate (every day is National Something day–get the full line-up at nationaldaycalendar.com).  To make the hour even happier, offer your drinks in "flights"–samples of a couple of variations on the drink du jour.  The practice is most common with wine and beer, but there's no need to stop there.  Make your guests happy with a flight of mimosa, mojitos, margaritas or whatever the occasion calls for.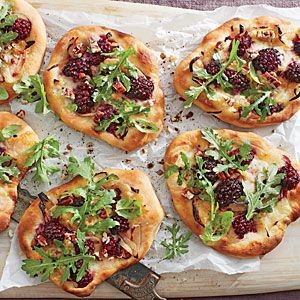 Blackberry-Brie Pizzettas via MyRecipes.com 
Don't Forget Munchies: Finally, though the happy hour is not the dinner hour, you and your guests will want something to munch on while imbibing.  You don't need to provide more than finger foods (after all, the drinks are taking center stage), but plan for snacks that look good on the serving platter and match the theme.  If you're serving beer, for instance, serve your guests something hearty like brats and meaty wedges of oven fried potatoes tossed in sauce.  For sparkling wines try something lighter–maybe a round of brie with strawberries and a fresh baguette.  If you run out of time (or budget) even a pretty bowl of spiced nuts or some parmesan chips will complement your bar selection.
Now that you have some ideas, bottom's up!