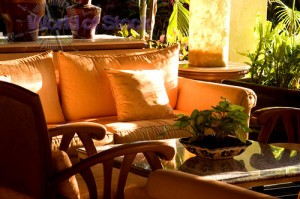 Considering how natural light will affect your home's interior decorating is vital. The angle it comes from, the intensity of it, and what it passes through can all change the appearance of a room. A pleasant side effect of a house that makes the most out of natural lighting is that you can reduce your power bill costs. So to help you out, here are a number of tips to get the most sun!
Compass points

Direction and time of day are two factors which have great effect on sunlight. While there isn't much you can do about the time of day, you can consider what effects sunlight from each direction will have, and change your décor to complement it.
North facing rooms get a lot of indirect sunlight, which tends to be bluer and colder than light from other windows. Artists often use north facing rooms because this light is both consistent and allows the artist to see colors better. These rooms are often utilitarian, like bathrooms, but will benefit from bright colors to offset the cool light.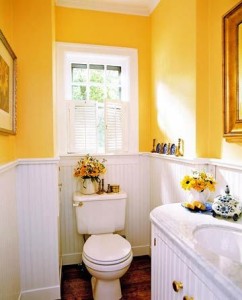 Image via Better Homes & Gardens
South facing rooms in contrast get much more intense sunlight for longer periods of time; this means that these rooms are usually both warm and brighter. The disadvantage is that strong colors can be overwhelming in these rooms; cool blues and pastels work well to calm these rooms down.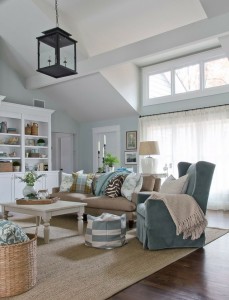 East facing rooms get intense sunlight early in the day and reflected sunlight after midday. This means they will be the bright and warm during the morning, but will get colder as the day goes on. Warm colors work well to make them feel welcoming in the morning and to stay bright as the sun moves away.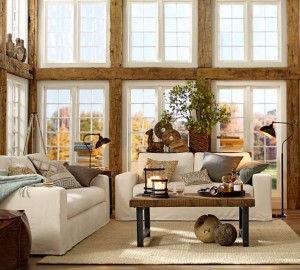 Image via Canadian Log Homes
West facing rooms get indirect light in the morning, but they get a lot of direct sunlight from mid-afternoon onwards, meaning that they get warmer and brighter as the day goes on. Cool colors will help make the room relaxing in the evening, and will reflect light in a cooler temperature.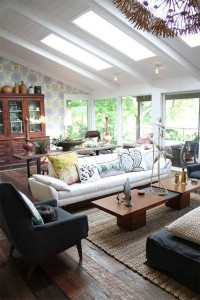 Image via Amy Butler Design Flickr
Magic Mirrors
Mirrors and light shelves can be positioned to reflect light deeper into a room, and can also make your room seem larger. Rooms can avoid a 'cave effect' caused by the contrast of bright light near the windows and dark light near the back of the room with these tricks of the trade.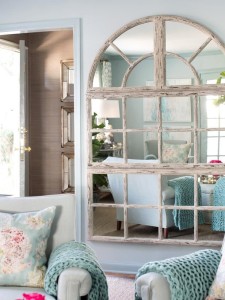 Image via HGTV
A similar effect can be achieved by painting a room with light or reflective colors to increase the percentage of light reflected by the walls and ceilings. In general, the more you can do to disperse sunlight into your house the more effective it will be. You can also help this process by either removing objects blocking the light, or using them to reflect it to where you want it to go.
Daniel Frank is a UK blogger who is interested in a variety of green design issues.  He is currently writing on behalf of Wooden Blinds Direct, specialist provider of wooden Venetian blinds.