A highly popular and insanely fun holiday tradition is Elf on the Shelf.  The cat was let out of the bag last week on Good Morning America, when they inadvertently spilled the beans about the secret behind the elf's 'magic'.  This bestselling toy helps Santa keep track of who's been naughty or nice and makes a 'trip to the North Pole' each night to report your kids' behavior.  Don't worry…we won't give away the secret.  But since the GMA mishap last week, parents have been scrambling to find a new holiday tradition that might help to restore the glory and warm-fuzzies to their upcoming holiday happenings.  We found a great product to do just that!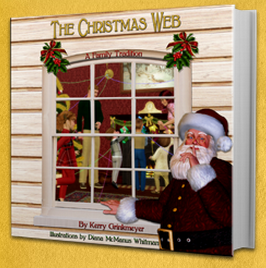 The Christmas Web is a fun activity for entire families to participate in, starting similarly to the Elf on the Shelf tradition, with an illustrated story book about how the Christmas Web came to be.  The Christmas Web kit also comes with three 'magic wands', with 70 yards of yarn attached to each (if you have more than three kids, you can order extra wands).  Unwinding the yarn throughout your home leads eager children (or adults, for that matter) on a fun scavenger hunt because at the end of the trail, in a closet or cabinet, is a special gift from Santa's elves.
The kit is robust, and the story book is beautifully illustrated. It's a great addition to traditional holiday activities that will be around for years to come.  If you have a family get together this holiday, give the Christmas Web a try!  It's an activity for the whole family, and is especially fun to sit back and watch as people have to creatively untangle their yarn to get to their gift!  The kit sells for $39.99, and you can get it here.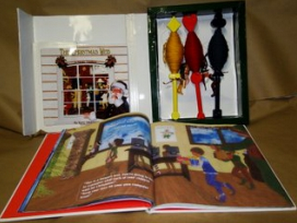 I'll be trying this out with my own family, and can't wait to see my seven year old son's face as he finally winds his way to his new toy!
Becky Scoggins is a web marketing specialist for TheHome.com.