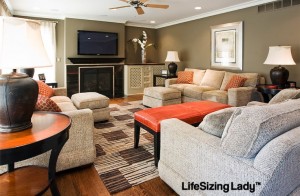 The High Point, NC Furniture Market is getting ready to show the world what is the latest and the greatest in furniture, lighting, accessories, and more. Smart buyers will keep the "Big Three" as their main focus in getting huge return year after year on their home interior purchases.  As a professional interior designer, my goal for every design project is to give my clients what I consider the priority order for designing space, no matter what that room or space looks like.
First, First, First, is Function. Truly, Truly, Truly!
Why is this so often overlooked? We get caught up in color, style, or just the whole shopping experience, without incorporating how any given room will really function.
In the photo above, the room functions for a great TV or hangout room with appropriate lighting, tables for everyone, awesome TV viewing, and window treatments that cut glare off the TV screen (or for privacy at night.) Think space planning. The function of this room worked so well for the client, we are repeating this design in their new home!
Second comes Comfort.
Wow…Who really cares about a beautiful room if it is not comfortable and no one ever uses it? By buying really comfy furniture with ottomans for real life put-your-feet-up-and-relax time, rooms are enjoyed and appreciated over and over. The photo here also includes relaxing furniture that looks and feels comfortable.
And surprisingly, last is Beauty.
Why? Because any room can look good, but if the room does not function or is not comfortable, what is the point? By making sure the pieces in the room in the photo are functional and comfortable, the finishing touches in accessorizing bring an ambiance into the space that looks lovely!
I want all spaces to have the "Big Three!" With all the fabulous selections being available today, it is easier than ever to recoup those furniture dollars into rooms that bring nurturing beauty for years and years of enjoyment.
So think the "Big Three" all of you junior designers! Function, Comfort, then Beauty.
Mitzi Beach, ASID CAPS, is an award-winning professional interior designer and aging-in-place specialist who is promoting smarter and better lifestyles for the 50+ers through LifesizingLady.com. She is owner of Mitzi Beach Interiors specializing in sizing interiors to meet changing life stages.