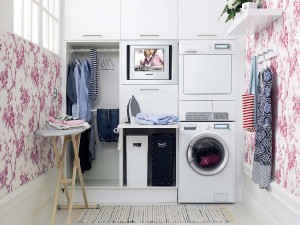 The laundry room can be one of the most dreaded rooms to enter in your home. It might be cluttered and disorganized, while the rest of your home may be spic and span. Surprisingly, it's one of the most used rooms in a home, but receives the least attention when it comes to design and functionality. Here are a few helpful tips for making your laundry room a much more inspiring place!
Choose a smart layout. Don't position washers, dryers, ironing boards, etc. behind doors or in awkward corners. If you purchase front-loading washers and dryers, consider purchasing pedestals to raise them up to make access easier.  When choosing flooring, avoid wood or ceramic tile and go for something more durable, like porcelain tile (unglazed to prevent slipping when wet).
Be efficient. Evaluate how much washing you're doing these days. If you're not using the most energy efficient machines for your needs, investing in new ones may actually save you money. When buying new machines, always investigate how much electricity they will use in a year. Other design features that help save on your energy bill include water level controls, moisture sensors, and spin cycle adjustments.
Decorate / paint the walls. So many laundry rooms are drab, utilitarian places. Don't be afraid to continue your home's décor into this space. You'll enjoy working in there more if it feels as warm and inviting as the rest of your home.
Include plenty of storage. If you can afford it, built-in cabinets and shelves are smart (and can even add to a home's value,) but there are plenty of inexpensive free-standing or between-the-washer-dryer caddies, cabinets, organizers and bins available at your local home improvement or decor stores.
Keep stain removers, sponges, and scrubbers in containers on a shelf or in a cabinet above your washing machine. Transfer detergents into smaller, dishwasher-safe containers that are easier to handle.
Consider a fold-out or hide-away ironing board. Having an ironing board set up all the time takes up a lot of space. There are a lot of models that are meant to hide behind the door or fold up on the wall when not in use.
Create Timesaving Sorting. Never face a heaping pile of dirty clothes again! Designate baskets for darks, lights, and dry-cleaning so everyone can help sort clothes. Have canvas-lined baskets embroidered, or label them with a fabric marker. Discount and specialty stores sell rolling carts with divided bins. Use adhesive felt letters to label each one, so everyone knows what goes where.
Hillary Enselberg, brainchild of RAISE Armpit Stain Remover, is a South Florida native and graduate of George Washington University.  Learn more about RAISE Armpit Stain Remover at www.armpitstainremover.com.