We recently received a bottle of Downy Wrinkle Releaser in the mail to test and review. We passed it on to Hilary, a member of TheHome.com team, to put it to work in her own home!
---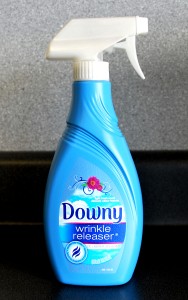 I want to start off by saying that I've always loved the smell of Downy. My mom used it when I was little, and it brings back all kinds of scent-triggered memories for me. I was delighted to find out that Downy's Wrinkle Releaser carried that same familiar scent that I had grown up with.
The product claims to be for the non-ironer. Since I am fairly domestically challenged, I thought it would be the perfect way to keep my bed linens looking nice and wrinkle free without having to drag out my dust-covered ironing board and ancient hand-me-down iron (can you even iron linens, anyway?).
It worked BEAUTIFULLY. I sprayed the linens down sparingly, gave the corners and edges a few tugs, and within minutes I had a wrinkle free bed! They stayed wrinkle free through at least two nights (I washed them on the third so I'm not sure exactly how long it would've stayed otherwise) and the Downy scent lingered until I washed them.
The only bad thing that I can say about the experience was that the scent was just a touch overpowering when I initially sprayed it. I used only enough to make sure that the spray hit the heavily wrinkled areas, and I had to crack a window to avoid being overwhelmed. I would think, though, that if you were using it on a shirt and only doing one or two sprays it wouldn't be that bad.
Thinking forward a bit to the holidays with company coming over, I can see it being useful on guest bedspreads, slipcovers, curtains and cloth shower curtains as well. My parents and future in-laws never have to know that I'm iron-phobic!
It is safe to say that I will definitely be using Downy Wrinkle Releaser on my linens again (and trying it on my clothes and curtains, too); it is just too easy to not use!