Hanukkah is a time for family and friends to gather. But most likely not all of your friends (and maybe not even all your family) are Jewish.  If you want to include everyone in your Hanukkah celebrations, here are some tips for making a Hanukkah night work for the whole diverse circle of people you love.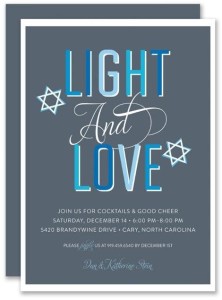 Via Invitation Box
When you extend your invitation, make sure your non-Jewish friends and family members understand that Hanukkah is not the Jewish Christmas. Be clear that you won't be expecting (or giving) lavish presents; and the meal, while traditional and family-oriented, may be more casual than an old fashioned, sit-down Christmas dinner.
Don't assume that your non-Jewish friends celebrate Christmas. Many religions have some kind of mid-winter traditions (Hindus, for instance, hold a five-day holiday to celebrate Lord Ganesha and Buddhists celebrate Bodhi Day early in December).  Sometime during the evening, ask your non-Jewish guests to say a few words about the winter holiday they grew up with.
Invite a family member to act as ambassador for your non-Jewish guests.  Their job is to explain to the guests the meaning behind the evening's traditions and to answer questions as they come up.  An older family member may particularly relish this role, but it could also be good way to involve a young person in the celebration.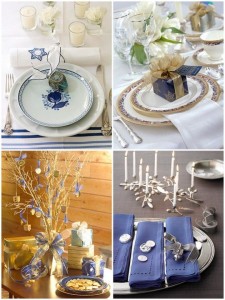 Via Luxe Finds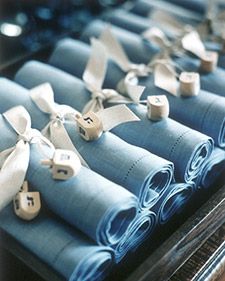 Via Martha Stewart 
Make the Hanukkah dining table special.  Set the table with a glass vase filled with miniature dreidels and hide gelt in the folds of cloth napkins at each setting. Instead of the traditional gift box, consider making a small donation in each guest's name and leaving a card to that effect at each place at the table (most charities will supply you with a card).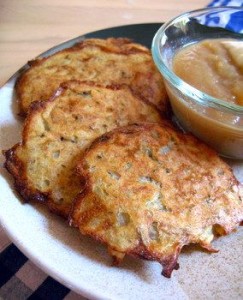 Via Baking Bites
How many times a year are we encouraged to indulge in fried foods?  Make the most of the tradition by planning your Hanukkah dinner party around a variety of delicious main-course latkes. Look for recipes with a new twist on the traditional potato; even die-hard traditionalists have come to accept everything from sweet potatoes to parsnips in the mix. Get creative with the accompaniments as well, including a top-quality apple chutney along with the applesauce.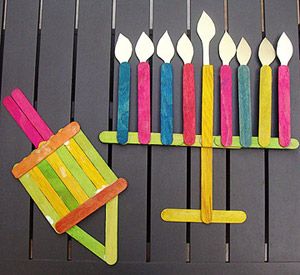 Via Parents.com 
Involve children in the preparations.  If your non-Jewish friends or family live nearby, invite their children to come early or even the day before to help you get ready.  Let them make their own menorahs using simple craft materials–look online for easy inspirations.
If your non-Jewish guests are part of a newly blended family, look to Hanukkah as a way to help them get to know you and your traditions.  No need to try to satisfy everyone with a 'Christmukkah' mash-up. In-laws who normally celebrate Christmas or another holiday will have other opportunities to do their own thing, so let this be your night.  Bring out your treasured family menorah or even better, find a new one to start a fresh set of memories. Feeling crafty? Make your own menorah by filling a row of good-looking drinking glasses with decorative glass beads and put a good-quality candle in each one.  Put on the Hanukkah music, sing songs and have a good time!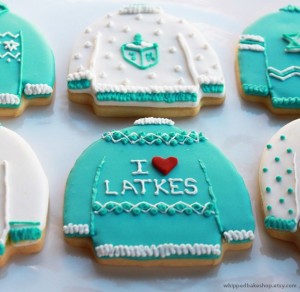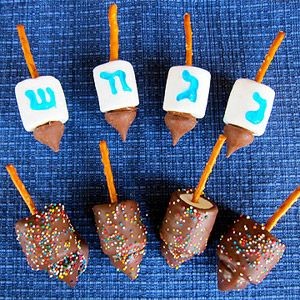 Via Parents.com 
Send your guests home with a box of homemade cookies decorated with Stars of David or marshmallow "dreidels" dipped in chocolate (use straight pretzels for the stems and chocolate kisses for the points).
Have more fun inclusive Hanukkah ideas? Share your comments below!