With the kids heading back to school, you've probably been scouring the aisles scooping up the supplies for their upcoming school year.  There's nothing better than crisp folders, shiny new lunchboxes, and unsharpened pencils!  Now that the kids are all set, it's your turn to spruce up your office or study with some fashionable supplies.  Kids shouldn't have all the fun!
Paper Source has adorable file folders in an array of styles at a super affordable price point.  My favorite?  The Bird File Folders, which are right on-trend with what's hot in home fashion this year.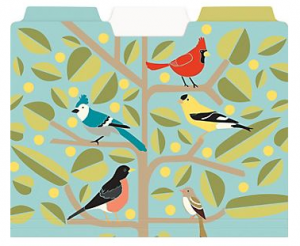 If you're like me, you have to have a calendar to keep your appointments sorted out.  Dry erase calendars are great, but they can be bulky or institutional in a home office…WallPops partnered with designer Jonathan Adler to offer a cool peel-and-stick dry erase calendar!  It's cute, functional, and compact.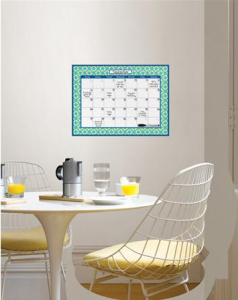 Sometimes the most mundane essentials, such as staplers, tape dispensers, and pencil holders, are overlooked in the office as potential fashion statements.  A trendy line called ANYTHING can remedy this with a fun collection of desk tools, like this sleek turquoise stapler.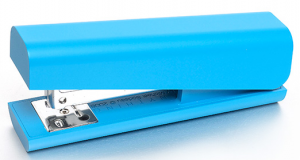 I have a tendency to let pencils, pens, paperclips and rubber bands accumulate on my desk, so I was excited to see a storage option that wasn't boxy or boring!  SeeJaneWork.com has loads of office organization supplies, including this hand-painted metal desk caddy.  I love the design and look of this!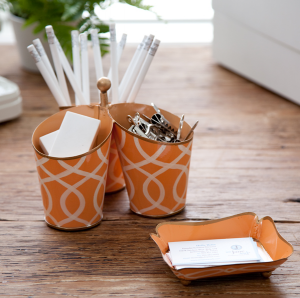 The biggest clutter culprit in any office or study is paper.  Stacks pile up or are shoved to the side, and often it takes months to finally get around to filing or organizing them.  You can save yourself some desk space, and a lot of frustration, by using paper trays to help sort your papers.  SemiKolon has a chic collection of brightly colored paper trays available on Amazon!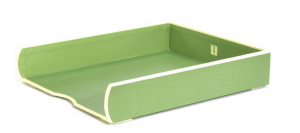 Your work space doesn't have to be boring!  Spice up the look of your space, and you'll be more productive.  Do you have a few favorite essentials in your office or study you'd like to share?