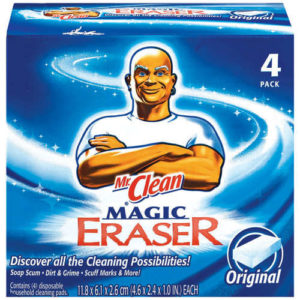 We're all used to turning on the television and seeing hundreds of ads about new products. Some ads catch our attention, but we mostly just tune them out. I know that I am definitely one of these people. It wasn't until I read a blog about one of those "As Seen on Television" products that I was sold. So what is this product that succeeded in grabbing my attention? None other than the Mr. Clean Magic Eraser.
You might be thinking: "Why of all things would I be interested in a cleaning product?" Well I'll give you one good reason…it really works!
The Magic Eraser can be used just about anywhere! Here are just some of the ways you can use a Mr. Clean Magic Eraser:
20 Ways to Use a Mr. Clean Magic Eraser
1. Remove stains from dinnerware
2. Remove carpet stains
3. Remove shoe stains
4. Clean refrigerators
5. Remove stains on pots and pans
6. Remove nail polish stains
7. Clean computers and electronics
8. Clean gutters
9. Clean windows and mirrors
10. Clean toilets
11. Remove stains from plastic food containers
12. Remove hair dye from counters
13. Remove mildew
14. Remove tarnish from silver
15. Remove fingerprints from kitchen cabinets
16. Remove sticker residue
17. Remove paint scratches on cars
18. Remove dried paint on door hinges
19. Remove melted plastic from toaster oven top
20. Clean floor tile
Got other great ideas on how to use the Magic Eraser?  Share them in the comments below!