No one wants to sit on their patio and look at a boring garden landscape. Traditional landscaping and gardening is like, so five years ago. Now, gardeners are ready to break out of the box (or pot) and get innovative with their landscape design. The trend of having "showpieces" within their flowery paradise is gaining momentum, and here are some unique gardening ideas to help get you on the right path to creating a garden worth showing and telling about on Pinterest.
Take a chair you were just going to throw out and make it into a beautiful garden conversation piece:
Via Oscar Mora
That rusty old VW van that hasn't run since Woodstock's heyday? Transform it into a psychedelic masterpiece (and store your lawn tools inside for convenient access):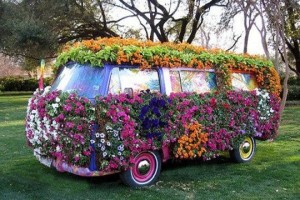 Re-use a broken or outdated piece of furniture as a decorative garden accent!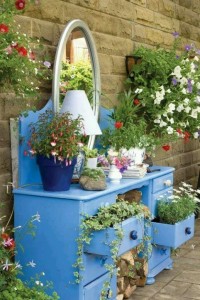 Via 1001 Gardens
If you've got bird feeders and butterfly gardens, why not have a place to attract some fairies?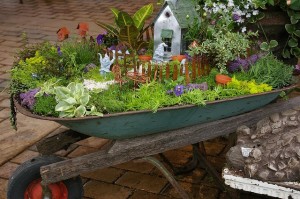 Via Flickr
Since ET went home, it's only fitting to use the bicycle basket as a decorative flower holder.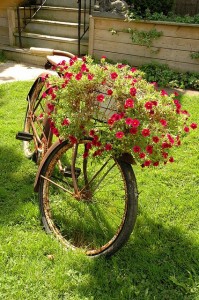 Via Flickr
If you've got old cars in your yard, make them over from an eyesore to a masterpiece!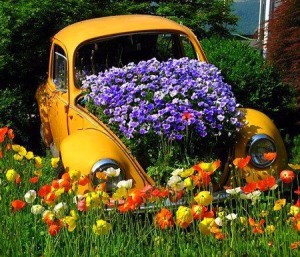 Via Style Motivation
Your kids and vinery plants will thank you:

If you don't want to pay the high price tag for stump grinding, here is another approach: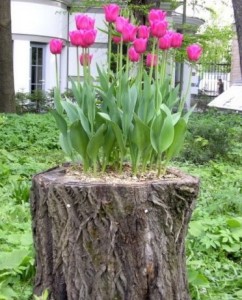 Via Pinterest
…Or if you don't want to haul away the logs from trees you cut down: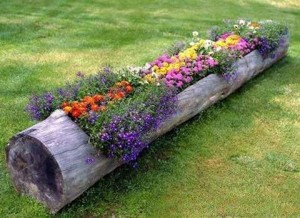 Via Pinterest
Easy-peasy accent pieces for your patio: