The weather outside is frightful and you're snowed in. There's nothing showing at the movie theatre that's worth scraping off the car for, and your kids, who are home from school for winter break or out for bad weather, are driving you crazy.  Weatherbound?  With a little planning, you can stay one step ahead of the cold front and create a winter wonderland at home that will chase away the chills for kids large and small. Here are ten fun things to do at home this winter.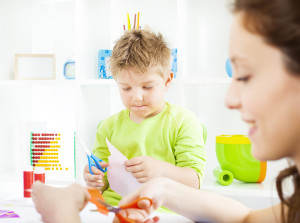 Via iStock
Discovery Place:  Fill plastic bins from the dollar store with basic craft items from around the house.  We're not talking about expensive Martha Stewart-y materials–we're talking things like pipe cleaners, corks, rubber bands, toilet paper rolls, ribbon spools, cotton balls, buttons and paper clips.  Clear off the dining table, put on some good music, and challenge yourself and your co-conspirators to create the tallest, weirdest, wildest castle ever.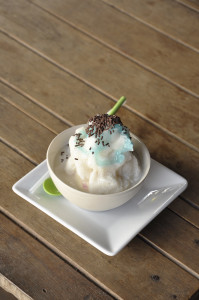 Via iStock
Cold Weather Cooking:  Treat yourself to some homemade snow ice cream.  Stir a can of sweetened condensed milk into about eight cups of (clean, freshly fallen!) snow and flavor with vanilla–or if you want to get extra fancy, pour in some juice from a jar of maraschino cherries and put a cherry on top.  The ice cream will melt fast and doesn't freeze well, so you've got an excuse to eat it all in one sitting.
Want to make it even more festive?  Make your own chocolate leaves by spreading melted chocolate on the underside of evergreen leaves (camellia or ivy leaves are perfect, but make sure you've cleaned them off). Once the chocolate has hardened gently peel away the green leaves and enjoy the chocolate creation.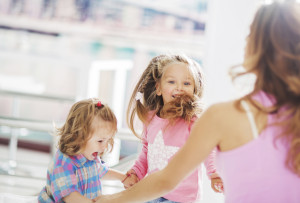 Via iStock
Kitchen Disco:  It's dark.  It's cold.  You've been in the house for a long time.  Dance party!  Here's how it's done:  Crank up your favorite CDs or create your own "Kitchen Dance Party Mix" station on Pandora. Gather up the battery-powered headlights and tail lights from all the bikes you can get your hands on (you're not going to need them until it thaws outside anyway), attach the lights to a ceiling fan, turn on the fan, turn off the lights, and let the party begin.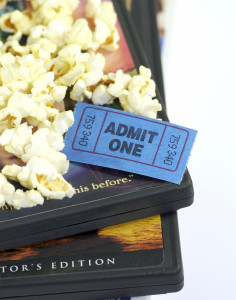 Via iStock
Oldies But Goodies:  A bottomless bowl of buttered popcorn and a movie marathon.  Does it get any better than that?  Best bets for winter watching for the kids: Frozen, The Lion the Witch and the Wardrobe, Happy Feet, or Groundhog Day.  After the kids have gone to bed get some genuine chills with The Shining, Fargo, Misery and North Face, or give in to your binge-watching urge with Steve Van Zandt's Lillyhammer.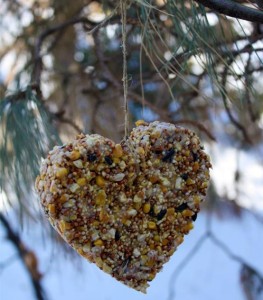 Via Alpha Mom
Feed the Birds:  This takes a little advance planning, but it's worth it.  To make some pretty treats for the birds all you need is a bag of wild birdseed, two packets (the equivalent of two tablespoons) of gelatin powder, string and something to mold the birdseed with (either a silicon mold or a cookie cutter).  Simmer the gelatin powder in a half cup of water until the powder is completely dissolved and mix it into a cup and a half of birdseed.  Press the mixture into the mold, adding a loop of string when the mold is halfway full.  Let sit for a couple of hours and then hang your birdseed ornaments outside near a window where you can watch the action.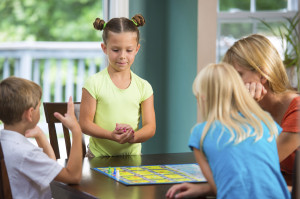 Via iStock
Unplug:  Break out the board games–Scrabble, Monopoly, or The Settlers of Catan (added bonus: you can still play even if the power goes out!).  Set up a jigsaw puzzle and let people work on it a little bit at a time through the snowy days.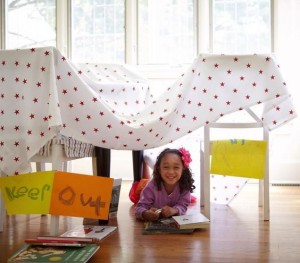 Via Real Simple
Go indoor camping:  Remember the hours of fun with blanket forts?  Pull out the sheets and sofa cushions and make a fort-to-end-all-forts big enough for grown-ups.  Tables, chairs, broomsticks and even beach umbrellas work as supports; and if you're really ambitious you can screw in some cuphooks and string up sturdy cords to drape the blankets over.  Use safety pins, clothespins and rubber bands to hold everything together and illuminate with strings of lights, flashlights and LED candles (don't mess with the real thing!).  You may enjoy your new home so much you'll want to keep it in place until the snow melts….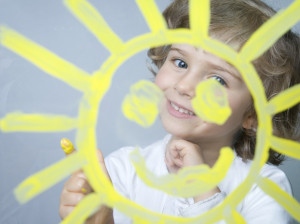 Via iStock
Paint Your Windows:  That frosty view looks even better through a window of DIY stained glass.  For safe, washable paint mix powdered tempera with liquid dish soap and apply with everything from fingers to toothbrushes.  The paint dries in five to ten minutes and cleans up with a mixture of equal parts water and vinegar.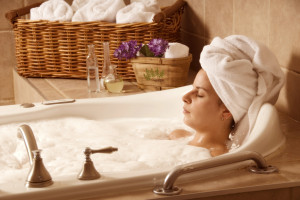 Via iStock
Spa Day: When cabin fever strikes, put on your most spa-like music, do your nails, experiment with makeup, take a long soak in the tub, read gossip magazines and generally pump up the pampering. You can make your own bath salts with three parts Epsom salts to one part baking soda and add essential oils.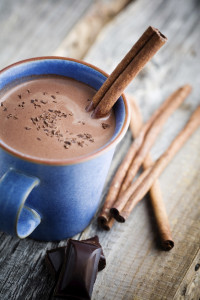 Via iStock
Spiked Hot Chocolate (When the kids go to bed):  Drink hot chocolate like you've never had it before. All you need is an ounce of Kahlua, an ounce of peppermint schnapps, good quality instant cocoa mix and six ounces of hot water or milk.  Or try this: heat a cup of whole milk with six tablespoons of Nutella until the Nutella is dissolved, then mix in a quarter cup of hazelnut liqueur (Frangelico is the classic) and two tablespoons of brandy.  Top with some whipped cream flavored with a little of the liqueur.